COMPREHENSIVE FINANCIAL PLANNING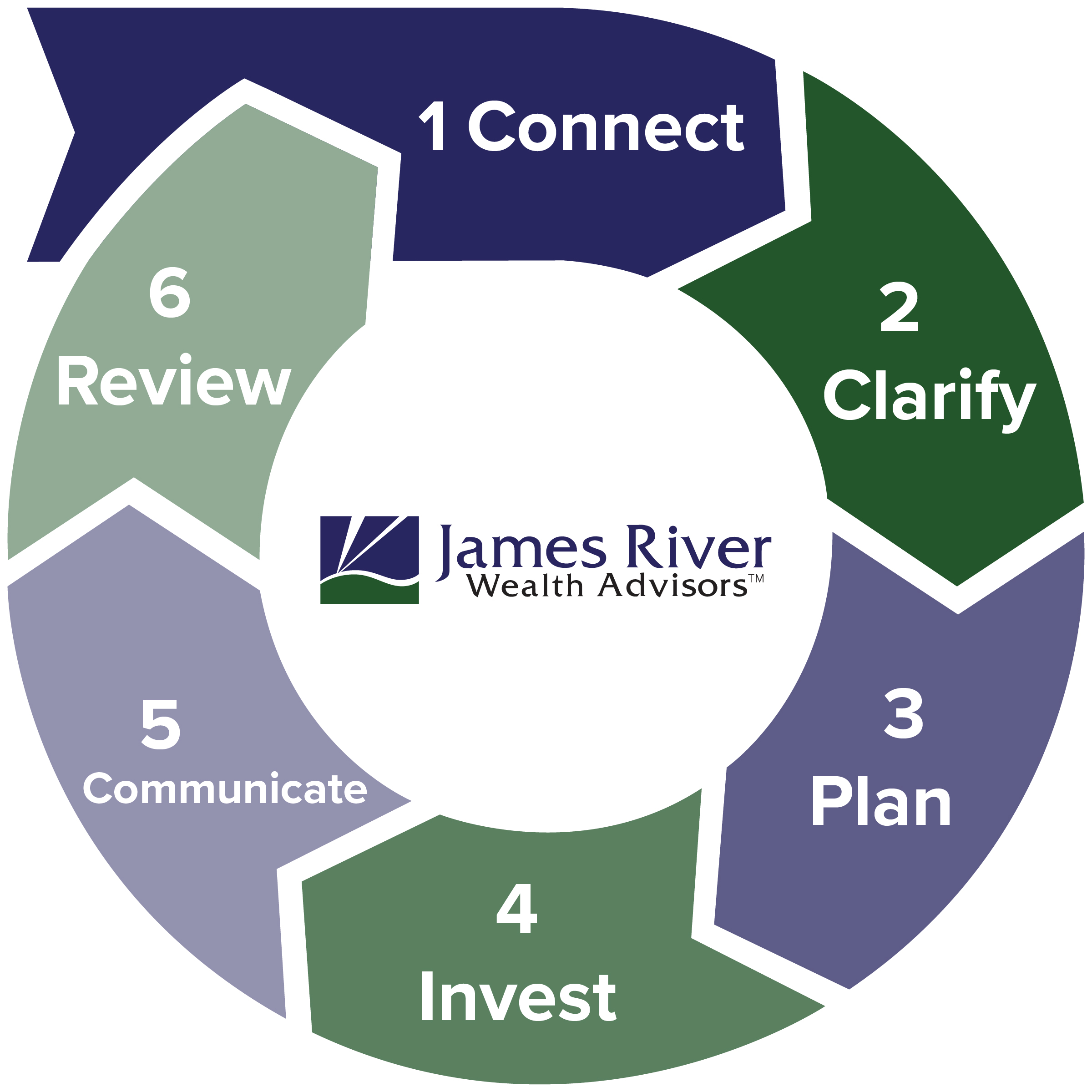 At James River, we help individuals and families realize a secure life for themselves and plan a thoughtful family legacy. We do this through a number of unique and proprietary planning processes, and an integrated and comprehensive suite of financial, estate, and tax planning services, as well as investment and insurance advisory offerings, all designed to help individuals and families maximize the impact of their financial potential during life and through an ongoing legacy they can leave behind.
Our comprehensive process begins and repeats as follows:
Connect:

We connect with our clients and prospects to win their trust.

Clarify:

We gain clarity on our clients' needs and goals.

Plan:

We build a plan that will bridge the gap between where clients are now and where they want to be.

Invest:

We then fulfill the plan.

Communicate:

We work with our clients to agree on how often and by what method to communicate, review, and update the plan as life events occur.

Review:

As time goes on, we repeat these steps as necessary.
Bridging where you are to where you want to be through timeless financial advice / Contact us today to get started!
James River Wealth Advisors
15521 Midlothian Turnpike, Suite 100
Midlothian, VA, 23113
Securities offered through J.W. Cole Financial, Inc (JWC) Member FINRA/SIPC. Advisory Services offered through James River Asset Management LLC. James River Wealth Advisors and James River Asset Management LLC are unaffiliated entities of J.W. Cole Financial.
Certified Financial Planner Board of Standards, Inc. (CFP Board) owns the CFP® certification mark, the CERTIFIED FINANCIAL PLANNER™ certification mark, and the CFP® certification mark (with plaque design) logo in the United States, which it authorizes use of by individuals who successfully complete CFP Board's initial and ongoing certification requirements.
Our site contains hyperlinks to other web sites operated by third parties. These links will take you away from our site. Please note that we do not guarantee the accuracy or completeness of any information presented on these sites.